Stitt Job Performance Numbers Strong; Right Track at 12-Year High
Volume 31 No. 6 May 15, 2019
By Pat McFerron, President
Cole Hargrave Snodgrass & Associates
Historically, voter opinion about the direction of the state and of those involved in state government tend to worsen during the legislative session. In 2019, however, we see the opposite. Not only are right track numbers getting markedly better, but we are seeing Governor Stitt solidify positive numbers as strong favorable numbers recorded in January now translate into strong job performance numbers. The one area where we still see voter displeasure, however, is with the state legislature which still suffers from poor public opinion developed during recent tumultuous regular and special sessions.
Governor Stitt has very solid job performance numbers with 55% rating his performance as either excellent (14%) or good (41%). Only 8% rate his performance as poor – a very low number in this hyper-partisan environment. As one might expect, Stitt does best among Republicans (72% excellent / good) but still has decent numbers among registered Democrats (34% excellent / good vs. 16% poor). Stitt currently does a good job of bridging the urban/rural divide in the state with numbers that are fairly consistent (Rural: 58% Excellent/Good vs. 9% poor; Urban: 53% Excellent/Good vs. 6% poor.
At this time Stitt's greatest strength is that he has solid numbers among his base and among key swing groups. For example, among self-described "very conservative" voters (37% of the entire electorate), Stitt does exceptionally well (76% Excellent/Good; 1% Poor) but still has great numbers among the 27% saying they are "somewhat conservative" (64% Excellent/Good; 1% Poor) and even the 14% self-identifying as a moderate (42% Excellent/Good; 20% Poor). Our study also identified a swing group comprising 31% of voters who are "conflicted" when it comes to Donald Trump and his policies (We'll release these numbers in the future.)– and Stitt performs great among this critical group (52% Excellent/Good; 10% Poor).
Kevin Stitt Job Performance as Governor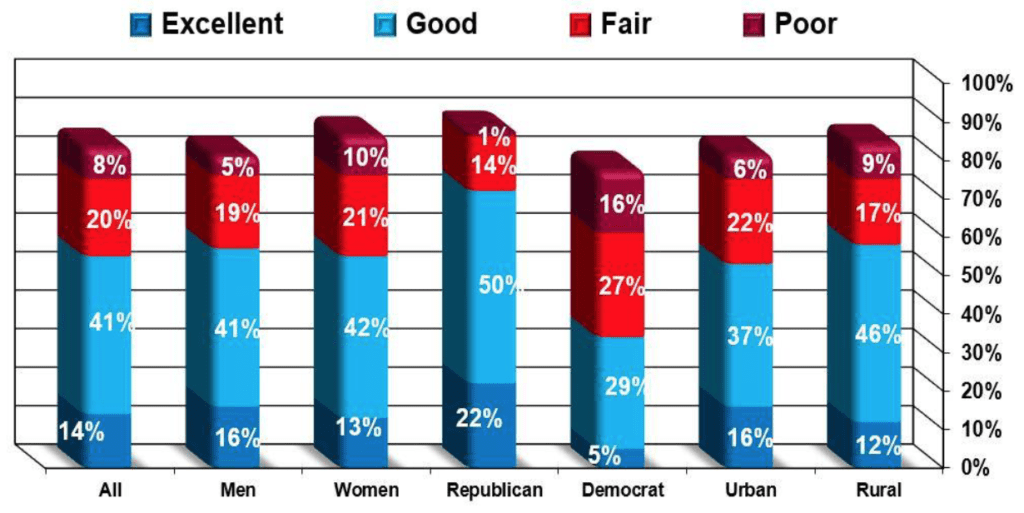 The state legislature does not perform as well as the governor. Currently, less than a quarter of voters rate the legislature's job performance as either excellent (2%) or good (22%) while almost as many (22%) rate it is a poor. Among Democrats, roughly twice as many say the legislature is doing a poor job (31%) as say the same about the governor. This difference, however, is not only partisan.
Among Republicans, only 32% give the legislature positive ratings, far below the 71% positive received when rating the governor. It is true that ratings of deliberative bodies tend to see a larger number of "Only fair" ratings (41% in this case) so the standards are not as high as they are for individuals. By any historical standard, these are low numbers. In 2007, the last time we saw right track numbers for the state this high, the legislature had markedly better numbers with 36% providing positive ratings and only 8% saying it was doing a poor job.
Our January study showed an incredible change in opinion about the direction of the state. We attributed much of that to the change in elected leadership. With the upward trend continuing, there must be other factors at play – most likely a robust economy or an embracement of the job performance of the current political leadership.
The 56% right track is the highest we have recorded since 2007 during the state's centennial celebration and on the heels of Brad Henry's reelection. Republicans remain very positive (71% RT/ 16% WT) while Democrats are divided (38% RT/44% WT). Key swing voting blocs are very positive (which bodes well for Republicans in 2020) are somewhat conservative voters (64% RT/ 18% WT) and those conflicted on Trump (53% RT/ 30% WT).
THE QUESTIONS
Generally speaking, do you think things in Oklahoma are headed in the right direction, or do you think things have pretty seriously gotten off on the wrong track?
56% Right Direction
28% Wrong Track
16% (Do Not Read) Undecided
Do you think the state legislature is doing an excellent, good, only fair, or poor job?
2% Excellent
22% Good
41% Only Fair
22% Poor
14% (Do not read) Undecided
As governor, do you think Kevin Stitt is doing an excellent, good, only fair or poor job?
14% Excellent
41% Good
20% Only Fair
8% Poor
17% (Do not read) Undecided
Next Issue: A First Look at SQ 802
---
This edition of Sooner Survey was taken April 22 -26, 2019. It was a live agent telephone survey of 500 registered voters in Oklahoma, including 51% of respondents on mobile lines. The confidence interval associated with this sample is that 95% of the time the results are within 4.3% of the true values.