– But Not Necessarily SQ 802
70% Want at Least Some Expansion; Voters Prefer "Oklahoma Plan"
Volume 31 No. 7 June 13, 2019
By Pat McFerron, President
Cole Hargrave Snodgrass & Associates
This first publicly released polling regarding State Question 802 reminds me of the battle on SQ 779, the Boren sales tax initiative. The question starts with a lead, but it has vulnerabilities and likely can be defeated. However, that would just be one battle in a much larger war. Just as the defeat of SQ 779 did not take education and teacher funding out of the public eye, neither will defeat of SQ 802 ebb the drumbeat for using federal dollars to expand coverage for low-income Oklahomans and to help providers, specifically rural hospitals.
SQ 802 starts with a substantial lead but fails to reach majority status. Just under half (48%) of Oklahoma's voters support this state question while a third (33%) oppose it. This issue currently divides Republicans (32% Yes; 45% No) but has a strong advantage among Democrats (68% Yes; 18% No). We see very little difference between those living in the two metro regions (48% Yes; 31% No) and those living in the other 71 counties (47% Yes; 35% No). While women support SQ 802 by a two-to-one margin (52% Yes; 26% No), men are almost evenly split (43% Yes; 40% No).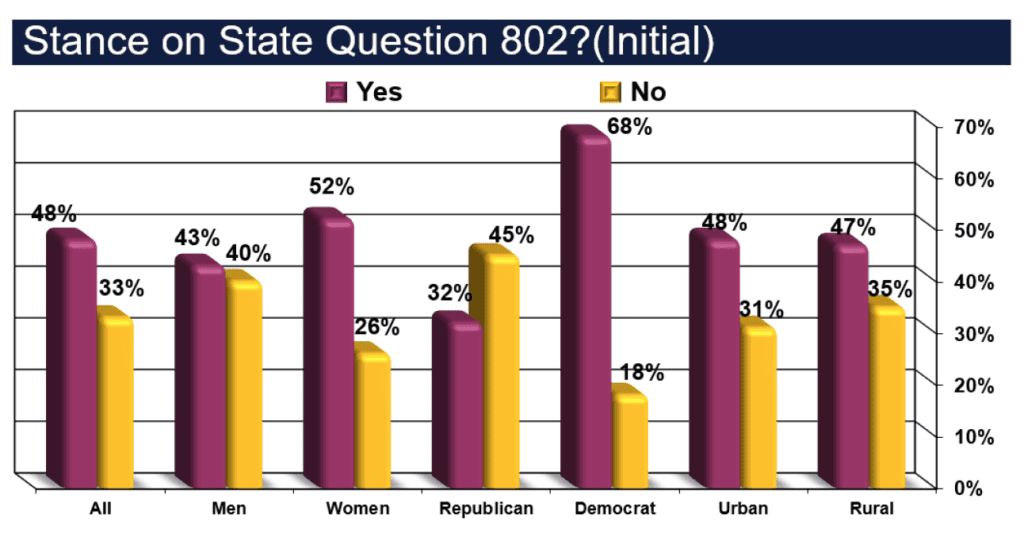 Perhaps most troubling from a partisan Republican perspective is how SQ 802 is perceived by swing voting blocs. Among those undecided on the legislative generic ballot, SQ 802 has a 20-point advantage (48% Yes; 28% No). Even among self-described "somewhat conservative" voters, SQ 802 starts out with a lead (45% Yes; 37% No) and among those rating Stitt's job performance as only fair, (53% Yes; 27% No) it gains majority status. Even among those saying Stitt is doing a good job, advocates (43% Yes) exceed opponents (38% No).
At first glance, the income line on this question may seem counter-intuitive; however, this trend has been consistent as the issue of Medicaid expansion has been surveyed. As expected, lower-income voters are supportive (Among those earning less than $25,000 a year: 70% Yes; 24% No), but the second most supportive groups are those with household incomes in excess of $150,000 (56% Yes; 31% No) and those in the $100,000 to $150,000 ranges support SQ 802 by 20-points (53% Yes; 33% No).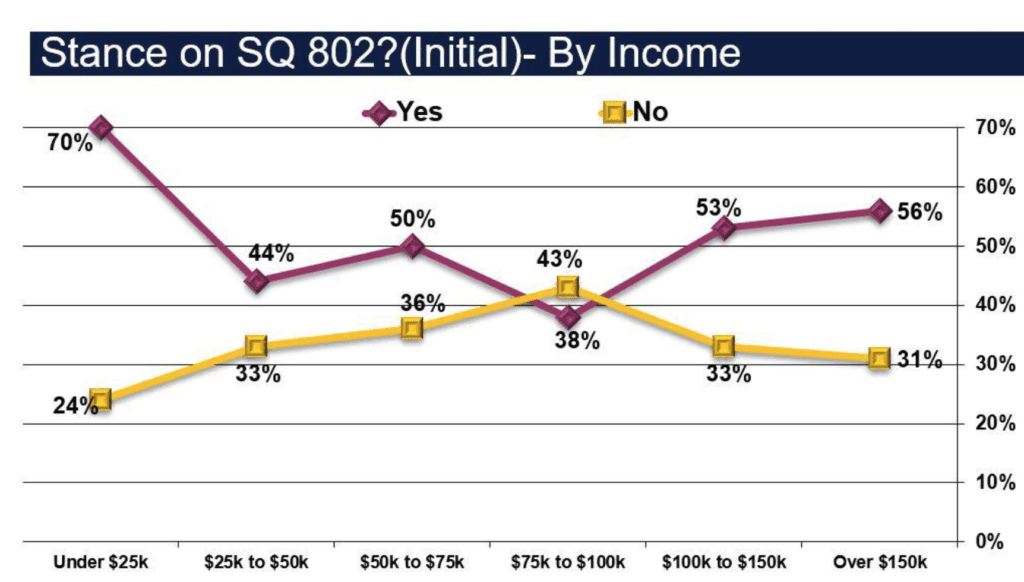 Despite its substantial lead, the success of this state question is far from guaranteed. State Questions often begin with solid support but fail at the ballot box. Should this campaign become framed as a liberal expansion of government versus a conservative approach to governance, it could be defeated. A shift in opinion among the currently supportive "somewhat conservative voters" or a unification of self-defined "strongly conservative" voters (currently 26% Yes; 49% No) makes this contest a dead heat very quickly. 
When arguments are given for and against this state question, we see that opponents could quickly be emboldened by simply attacking the federal government, labeling SQ 802 as Obamacare and/or by attacking the particulars of this state question. As SQ 793 revealed, changing the state's constitution is now a substantial hurdle for a state question. In contrast, proponents can argue the need to provide real Oklahomans with coverage they need and point to the crisis among rural hospitals. In fact, 83% of Oklahoma voters can see at least one of four proposed reasons to vote yes while 78% can see some relevancy in one of four reasons to vote no.
Among those undecided on the initial ballot, 31% say protecting rural hospitals is the most important reason to vote yes. Among this same group, 27% see the program's ties to Obamacare as a reason to vote no and 20% say the federal government cannot be trusted.
After this very brief discussion of reasons to support and oppose SQ 802, we see very little change. On the informed ballot, support (49%) and opposition (35%) both increase by two points. We do see some internal changes as Democrats become even more supportive (74% Yes; 17% No: a net change of seven points toward support) and Republicans move a bit more against (31% Yes; 49% No: a net change of five toward opposition). Those previously undecided on the state question break only very slightly against it (21% Yes; 25% oppose) with the bulk remaining undecided.
Although the presence of SQ 802 (or another iteration or most any state question) on the general election ballot in 2020 would have minimal effect on turnout in a presidential election, it would put Republican candidates in a bit of a box. Going back to the numbers on the initial ask of this ballot, this issue unites the 19% of Oklahoma voters who tend to oppose Donald Trump on multiple issues (86% yes) and is more divisive even among the 49% who tend to always support Trump (29% Yes; 44% No). The 31% of Oklahoma voters who at times support the President and at times do not are supportive of SQ 802 (54% Yes; 31% No). From a purely political standpoint, Republicans should NOT want the expansion of health care coverage to be a key topic in any general election.
There may be a way to avoid such an election. When voters are given rather specific parameters for an "Oklahoma Plan" we see solid support for some sort of expansion of coverage. This sort of an approach completely flips the script and unites Republicans while dividing Democrats. When given these choices, 70% opt for either an Oklahoma plan (48%) or full expansion (22%). Only 21% of voters say they want to keep the current structure. Among Republicans, 52% prefer an Oklahoma plan while an additional 12% would still prefer full expansion and 26% want the current status. Among registered Democrats, 41% opt for an Oklahoma plan while 36% want full expansion and only 13% want no expansion.
Preferred Medicaid Plan?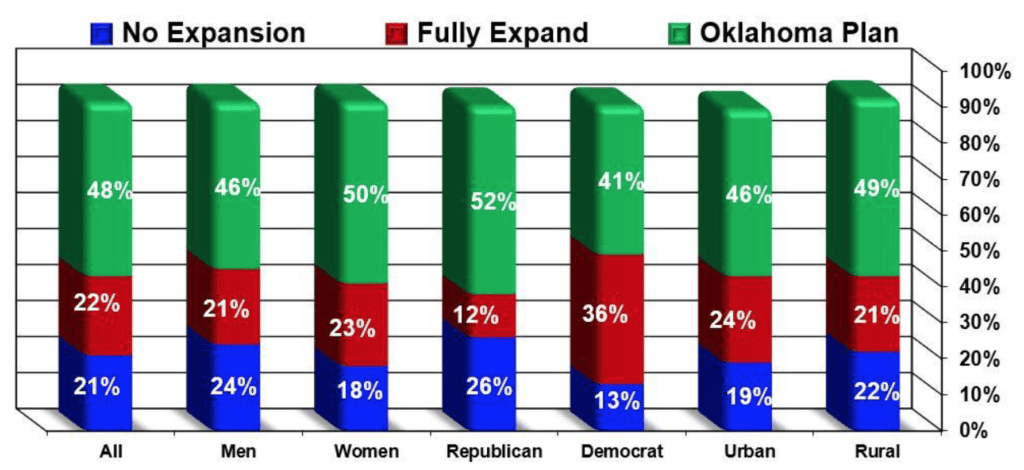 The potential embracement of an Oklahoma plan that includes a work requirement for the able-bodied, the ability of private insurance companies to provide coverage, a killswitch should the federal government quit funding the program and requiring at least a nominal premium payment by new participants is seen when looking at the cross-tabs from the initial ask. Not only do those originally undecided on SQ 802 embrace the Oklahoma plan (55% Oklahoma Plan; 8% Full Expansion; 19% No Expansion) but even a majority of those originally opposed to SQ 802 are supportive of this sort of an approach (52% Oklahoma Plan; 4% Full Expansion; 36% No Expansion). The group that becomes divided are those who originally support SQ 802. After the arguments for and against expansion as well as the Oklahoma plan alternative are given, this group becomes conflicted as roughly equal numbers prefer the Oklahoma plan (42%) as want full expansion as envisioned in SQ 802 (41%).
Preferred Medicaid Plan? – By Initial Ask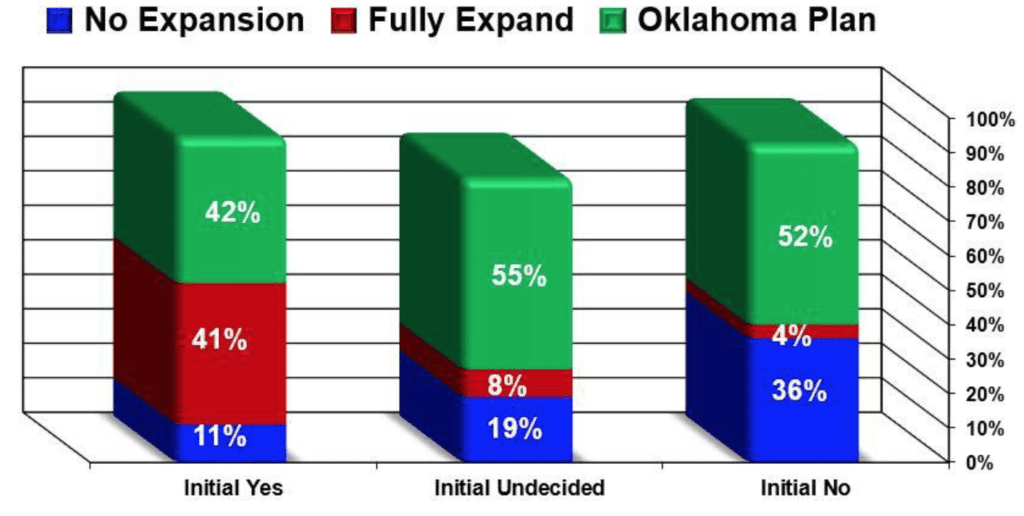 In addition, key swing voting groups support an Oklahoma plan that expands Medicaid (note, the question asked expressly called this plan an expansion of Medicaid. (Chief among these are those undecided on a generic legislative ballot (45% Oklahoma plan; 21% Full expansion; 24% No Expansion) as well as "somewhat conservative" voters (54% Oklahoma plan; 16% Full Expansion; 18% No Expansion). Even among those on the right side of the political spectrum, we see support for this approach. Among self-described "very conservative" voters, 55% say their preference is an Oklahoma plan while only 29% say no expansion should occur. Trump advocates have very similar numbers (53% Oklahoma plan, 11% Full Expansion; 26% No Expansion). 
There will be some pushback to an Oklahoma plan from those on the left. Among the 15% of Oklahoma voters who embrace the liberal tag, only 29% want an Oklahoma plan while more than twice as many (60%) prefer full expansion ala SQ 802.
For Republicans, SQ 802 provides both risk and opportunity. The risk is that leadership digs in its heels and fights any expansion. Yes, it could win the state question battle, but just like it won the Boren sales tax, it could lose the war and health care coverage could dominate not only the 2020 election but 2022 as well. The opportunity is to take this issue off the table and put forth a plan with elements embraced by conservatives while making other desired changes to improve health care delivery in Oklahoma.
Sooner Survey Questions
As you may know, a group recently launched an initiative petition drive to expand Oklahoma's Medicaid program. Known as State Question 802, this measure adds a new Article to the Oklahoma Constitution which would expand Oklahoma's Medicaid program to include certain low-income adults between the ages of 18 and 65 whose income does not exceed 133% of the federal poverty level as permitted under the federal Medicaid laws. If you were voting on this issue today, would you be voting Yes for this proposal or voting No against this proposal?
– 28% Definitely Yes
– 19% Probably Yes
– 15% Probably No
– 18% Definitely No
– 19% (Do not read) Undecided

(Rotate next two questions)

Which of the following reasons to vote YES on the Medicaid expansion state question we just discussed do you think is the most persuasive? (Randomize)
– 29% There are working Oklahoma families who don't have access to health care, and this will help those Oklahomans.
– 22% Our rural hospitals are really struggling and even closing. Expanding Medicaid will help them stay open. They already provide care to those covered by the expansion, but now they be will be reimbursed instead of writing off those costs.
– 18% This is a way to bring our federal tax dollars back home instead of going to the 37 states who have already expanded their programs. 90% of the cost of this program will be paid for by the federal government.
– 15% This could help lower insurance rates for other Oklahomans because these people already get treatment and the providers have to shift that cost to those who have insurance.
– 17% (Do not read) Undecided
Which of the following reasons to vote NO on the Medicaid expansion state question we just discussed to you think is the most persuasive? (Randomize)
– 22% This is just another step in implementing Obamacare in Oklahoma and a move toward single-payer insurance that will eventually lead to lower quality of care for all of us. 
– 12% States who have expanded Medicaid have seen tremendous cost overruns and it is proving to be unsustainable.
– 28% There is no guarantee the federal government will continue to fund 90% of the program because we taxpayers cannot afford it. We cannot trust the federal government to keep their promise and then we will have to choose between either kicking people off of Medicaid, raising taxes, or crippling other parts of our state budget like education.
– 17% It is wrong to enshrine this change in the state constitution. It should be statutory so changes could be better addressed in a timely manner.
– 22% (Do not read) Undecided
Now that you know a little bit more, would you vote yes or vote no on State Question 802 to expand Medicaid in Oklahoma?
– 27% Definitely Yes
– 22% Probably Yes
– 15% Probably No
– 20% Definitely No
– 16% (Do not read) Undecided
It has been suggested that the state legislature and governor develop a Medicaid expansion plan that, while it expands Medicaid, has some other requirements such as requiring minimal premium payments by newly covered so they too are invested, requiring the able bodied to work, ending the program if the federal government discontinues paying 90% of the cost and allowing private insurance companies to provide this coverage. Now that you know this, which of the following would you prefer to see? (Randomize)
– 21% No expansion of Medicaid and keep it the way it is
– 22% Fully expand Medicaid as designed in State Question 802
– 48% Have the governor and state legislature create an Oklahoma plan that expands Medicaid with additional requirements
– 9% (Do not read) Undecided
Next Issue: Trump, The Wall, & Mueller
---
This edition of Sooner Survey was taken April 22 -26, 2019. It was a live agent telephone survey of 500 registered voters in Oklahoma, including 51% of respondentson mobile lines. The confidence interval associated with this sample is that 95% of the time the results are within 4.3% of the true values.